Trillium Lake Basin Cabins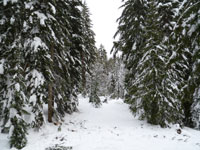 32798 E. Mineral Creek Drive
Government Camp, Oregon
The availability calendar and email contact form are provided for your convenience. The email contact form ensures that your request or question will be answered promptly.
Contact us for rates and scheduling.
Please reserve your dates early. Winter weekends fill up quickly.
For rental information please Contact us. If your matter is urgent, or your rental request is within the next few days, please use the Contact form first which will, in most cases send an email to our mobile devices immediately unless data reception is limited. For very urgent matters or same/next day rental requests, you can send a text message to (503) 819-7952. Please include your name and the dates you are interested in.

Please text or call only if your request is within the next few days, or immediate response is necessary.

Contact Trillium Lake Basin Cabins
(503) 819-7952